The Niagara hot tub can comfortably accommodate up to seven people, so it's great for get-togethers with family and friends. The only Utopia® model with his and her EcstaSeats®, this spa is versatile, powerful and an exceptional performer.
Seating Capacity

Dimensions

Jet Count
Niagara Style Selector
Click on cabinet and shell colours below to view combinations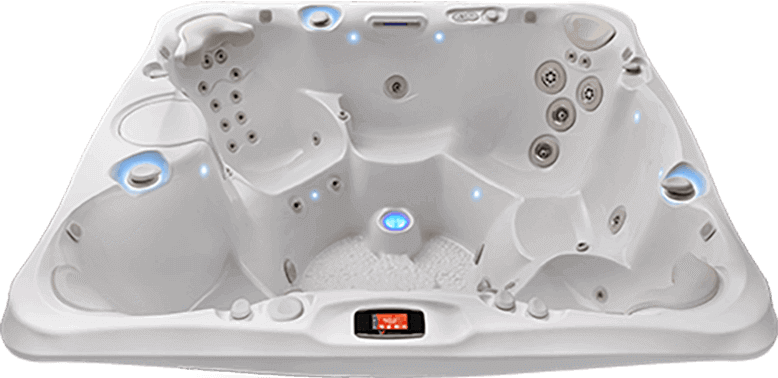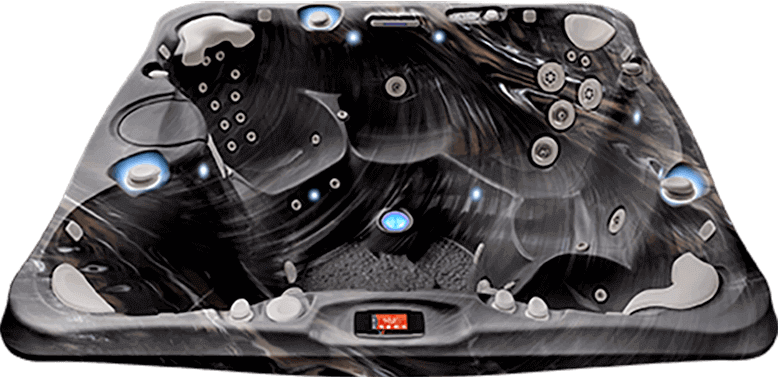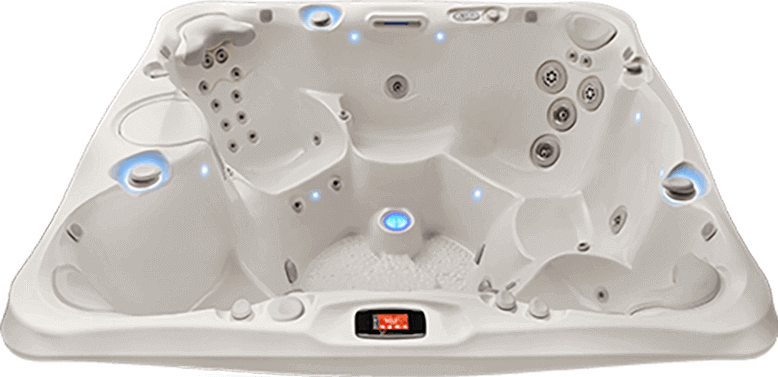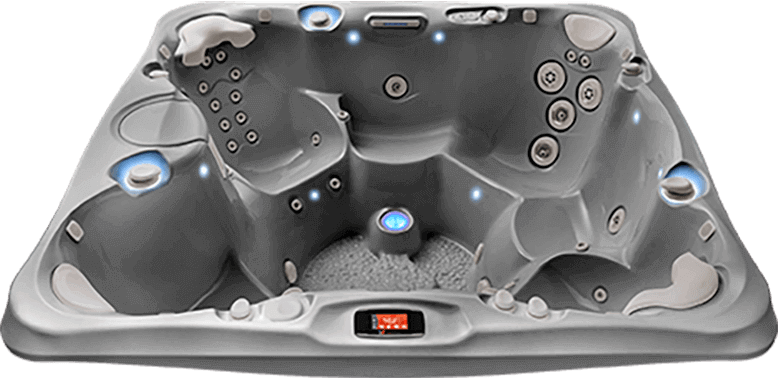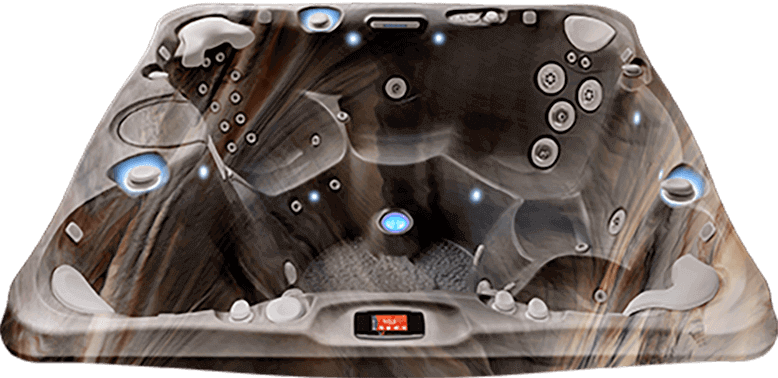 (Colours may vary depending on monitor settings)
NiagaraTM Jet Systems
When you move from seat to seat in the Niagara, you'll get a full body massage, with jets that focus on your neck, shoulders, wrists, back, hips, thighs, calves and feet.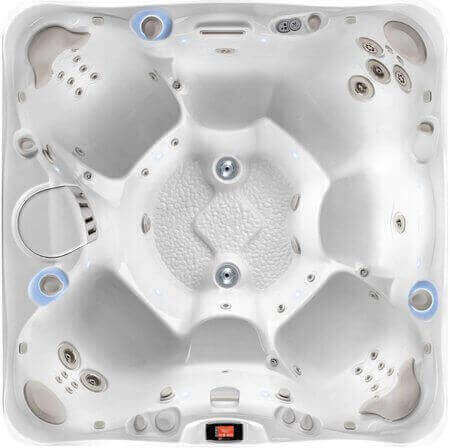 Initial Blank
1. UltraMassage
Neck, shoulders, and middle back jets sooth and delight.
2. Atlas Neck Massage
Located in both EcstaSeats, a contoured pillow cradles your head while specialized, above-the-waterline jets focus on neck and shoulders.
3. EcstaSeat
The Niagara features his and hers EcstaSeats, with jets that focus on large muscles in your back. In addition, each seat features an Atlas Neck Massage, as well as wrist, hip and calf jets for a full body experience.
4. LumbarSsage
A unique jet configuration relieves tension and pain in your back's lumbar region.
5. Euphoria Jets
The Niagara features two Euphoria jets that provide a deep, penetrating massage to thighs, knees, calves and feet.
6. Hip Jets
Located in both EcstaSeats, these jets work an often-overlooked stress point and can help to enhance range of motion.
7. Angled Calf Jets
Two sets of angled calf jets work muscles in the lower leg.
TOUCHSCREEN CONTROL
Adjust your water temperature, jets, and lighting with ease.
FRESHWATER® SALT SYSTEM
Longer lasting, natural-feeling water that won't irritate eyes or dry out skin.
AVANTE® CABINET
Durable, architecturally inspired cabinet available in three contemporary colors.
Seating Capacity

Dimensions

7'5" x 7'5" x 38" / 226cm x 226cm x 97cm

Water Capacity

400 gallons / 1525 liters
Weight (dry)

Weight (filled)

Jet Count
Jets

2 Atlas® Neck Massage, 38 Euro jets, 4 VersaSage® jets, 2 AdaptaFlo® jets, 4 Euro-Pulse® jets, 2 OrbiSsage® jets and 2 Euphoria® jets

Water Care Systems

FreshWater® Salt System Ready

Jet Pumps

2 ReliaFlo® Pumps; 1 Dual-Speed
2.5 HP (5.2BHP) & 1 Single-Speed 2.5HP (5.2 BHP)

Control System

Advent® LCD Touchscreen Control with Auxiliary panel

Circulation Pump

EnergyPro® Circulation Pump

Heater Output

EnergyPro® Titanium Heater (3,000 Watts)

Electrical Requirements

Filter Size

Water Feature

1 Acquarella® Waterfall with LED lighting

Multi-color Led Lighting

SpaGlo® Multi-Zone LED Lighting
including 12 Points-of-Interior Lights and 4 Corner Exterior Lights

Energy Efficiency

Fully-insulated with FiberCor® material, 2 lb. density, CEC-compliant
Branding

Large acrylic logo plate with On/Ready indicator light

Bottom Seal

Insulating Cover

3.5" to 2.5" tapered, 2 lb.-density foam core

Spa Shell Options

White Pearl, Platinum, Tuscan Sun, Arctic White, Midnight Canyon

Cabinet Type

Avante™ Cabinet

Cabinet & Step Colors

Cover Lifter

(Optional) ProLift® II, ProLift® III, or ProLift® IV

Cover Colors

Cover Design

Speakers

Entertainment System

(Optional) Wireless Audio System with Extended Range BlueTooth® Technology; Subwoofer; 22" HD Wireless Monitor (each sold separately)

Step Type

(Optional) Avante™ Step in Brownstone, Slate, & Sand

Cool Zone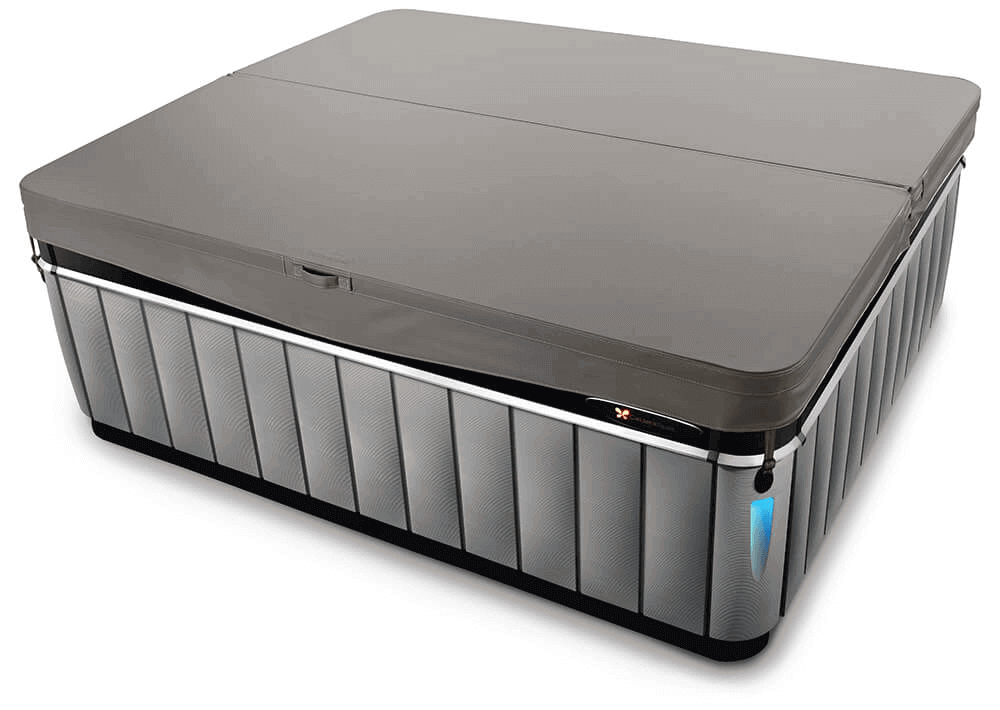 COVERS
Each hot tub comes equipped with a custom-built cover, made to the exact measurements of your spa. This ensures a tight seal for optimum energy efficiency. The durable, marine-grade vinyl cover includes child safety locks and is UL listed in compliance with ASTM standards.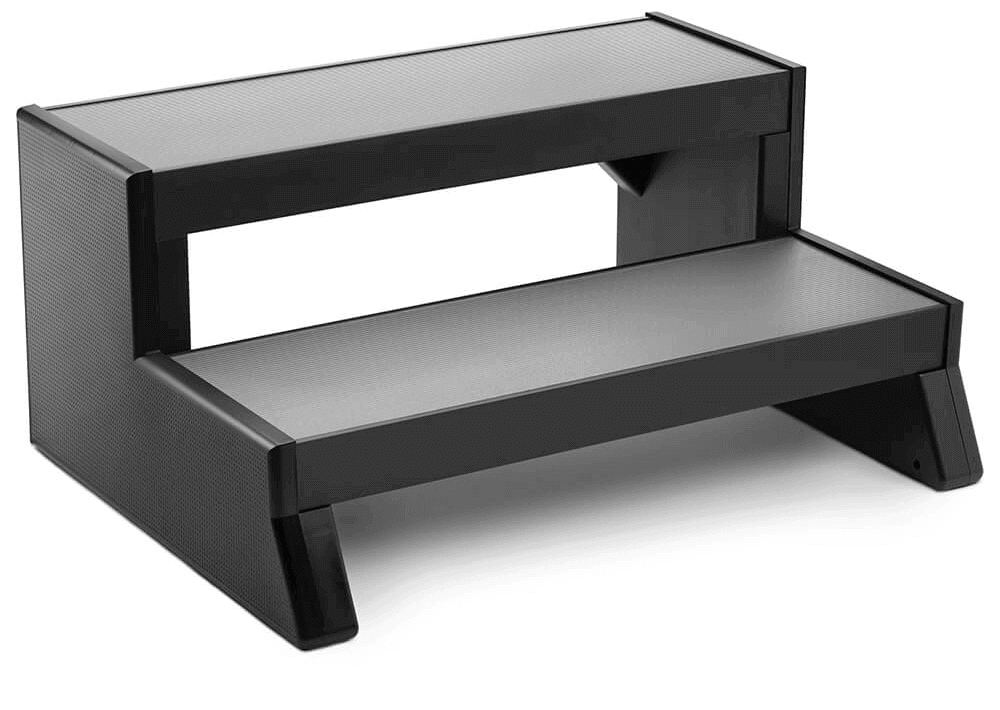 STEPS
We offer color-matched hot tub steps to help you enter and exit your spa with ease.