Erebus
Package Price From £6999
Package Includes :
2-Tier Steps
Coverlifter
Insulating Cover
Chemical Starter Pack
Chemical Presentation
Bluetooth
Standard* Set-Up & Installation
Full Commissioning of the Spa
This compact single lounge hot tub was the design focal point for the entire Earth Spas range. With its perfectly proportioned compact exterior, it offers an unrivaled spacious seating for up to 4 adults inside. The Erebus brings a truly versatile spa when space is of a premium. Whether it's a quiet night in with your partner, inviting your friends over for a glass of wine and a soak or just a bit of splashing around with the children, the Erebus ticks the box.
This hot tub benefits from 28 high-performance jets including a powerful foot blaster, a unique hybrid lounge, a peaceful water feature and a Bluetooth audio pack with sub-woofer. All Earth Spas are built to be energy efficient and with the optional fully integrated EcoSmart73 upgrade, you can save up to 73% on heating costs when compared with only using a standard electrical element.
Erebus Colour Options
Erebus is available in four great, easy to maintain acrylic colour finishes. Our shells are produced by Aristech Acrylics®, the leading provider of acrylic sheets for the spa and hot tub industry for almost 50 years, guaranteeing you a great finish that's incredibly long lasting.
Erebus Hydrotherapy Systems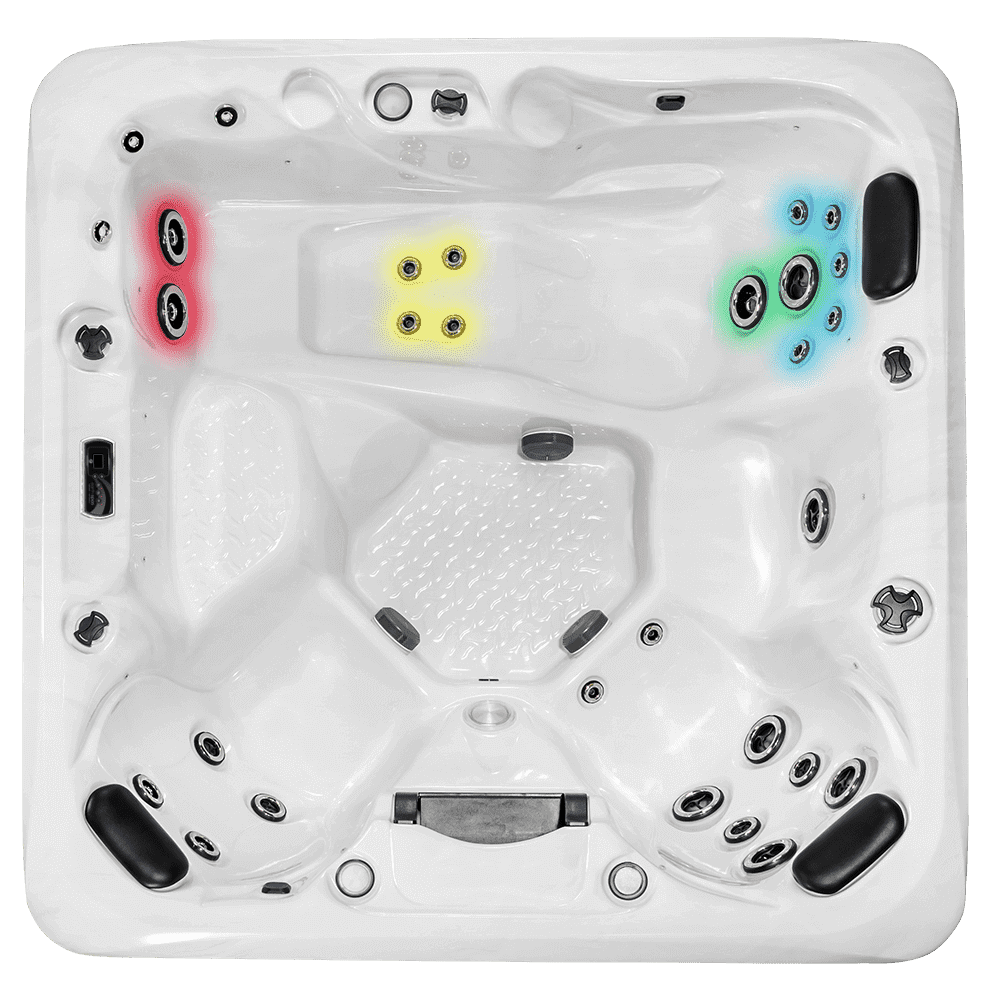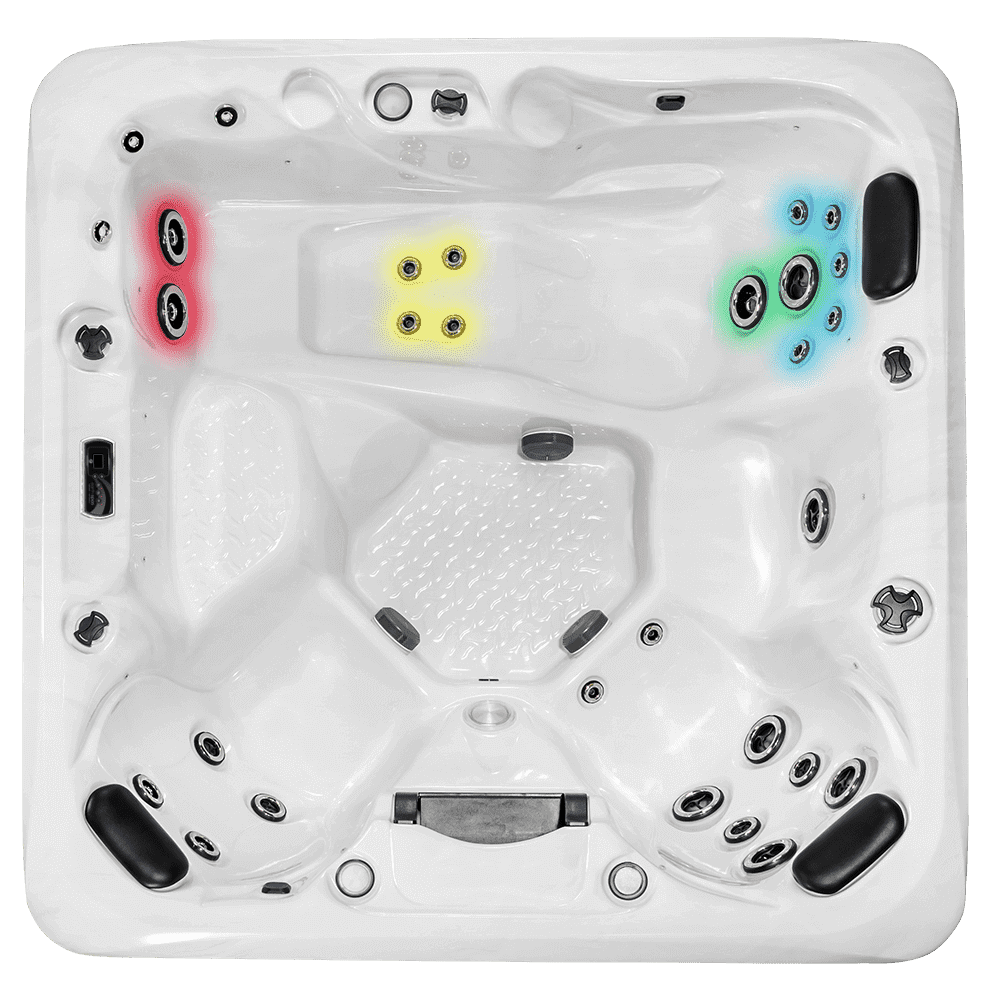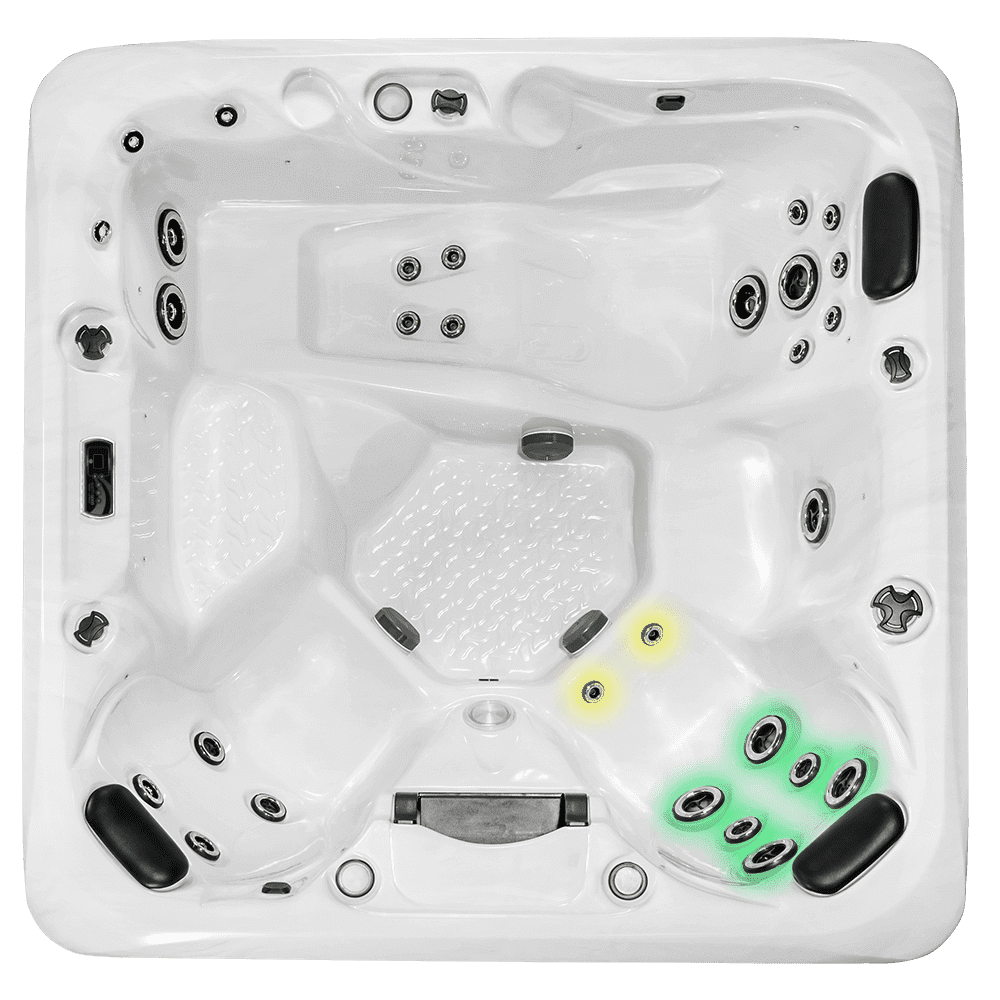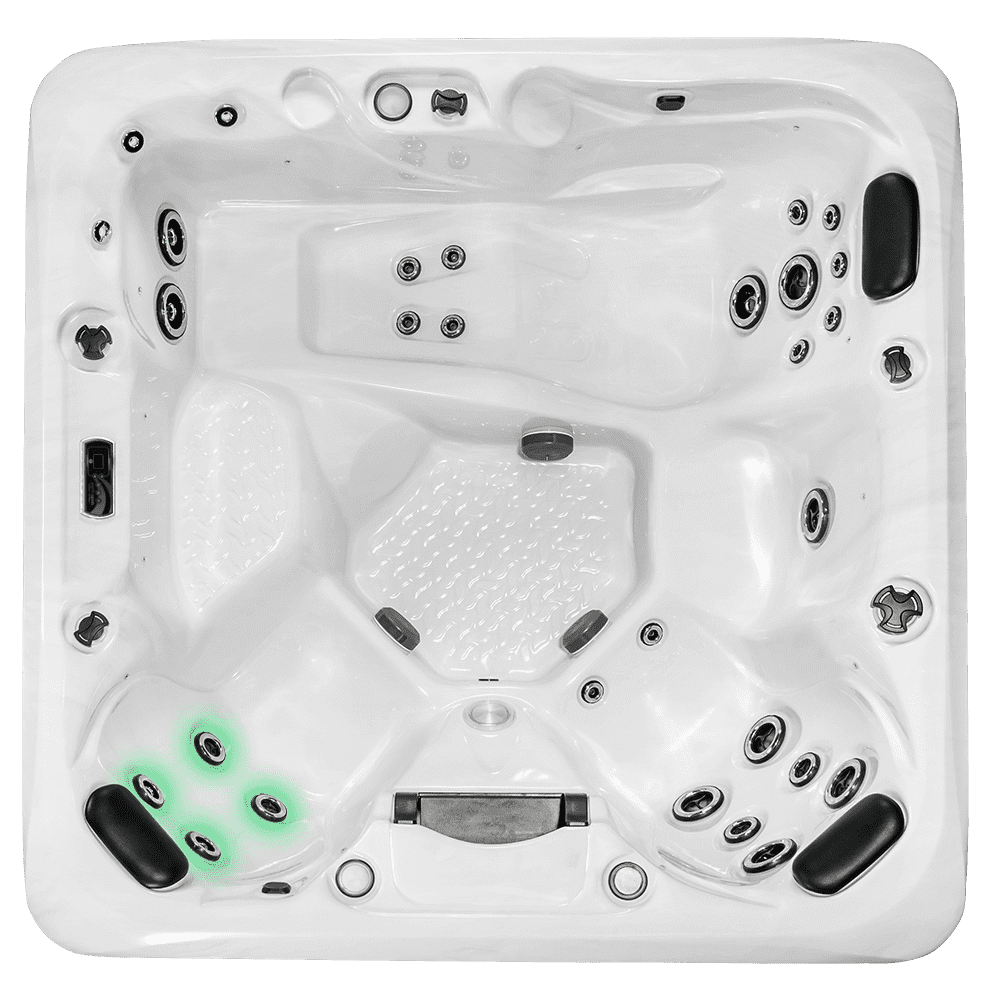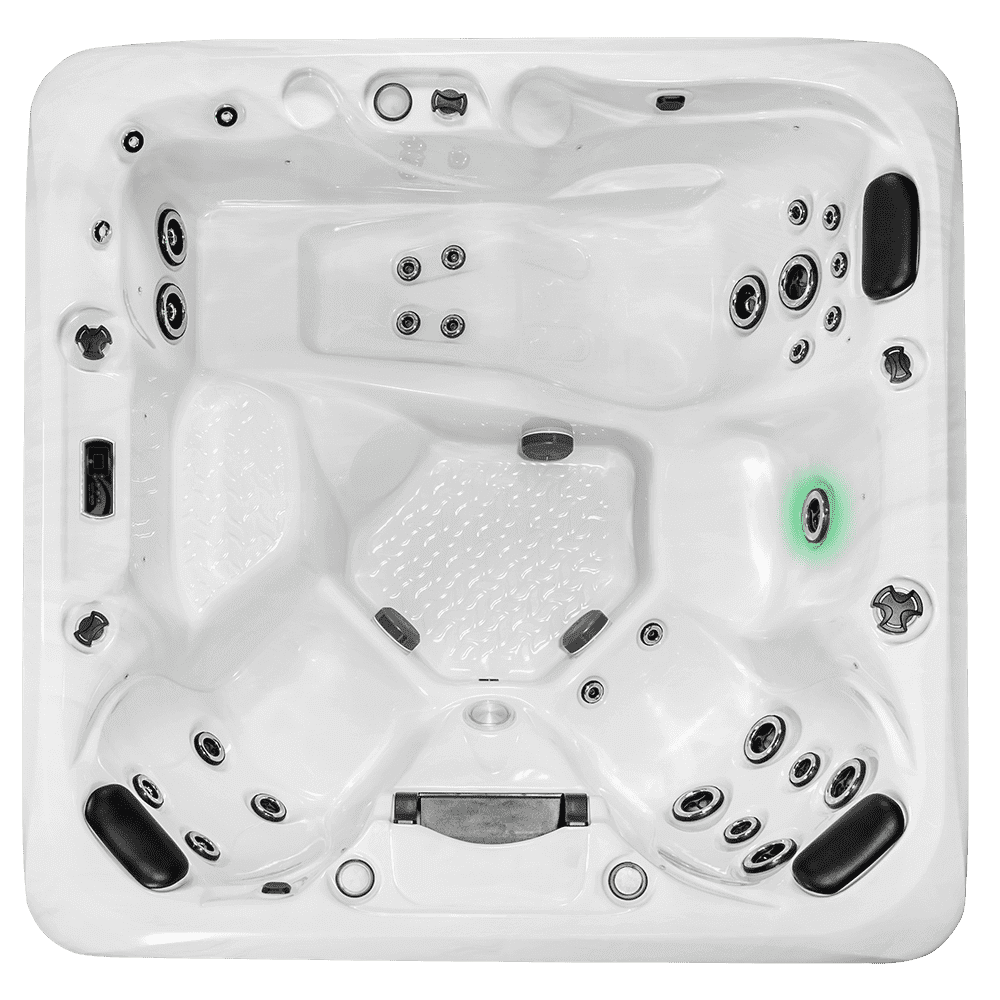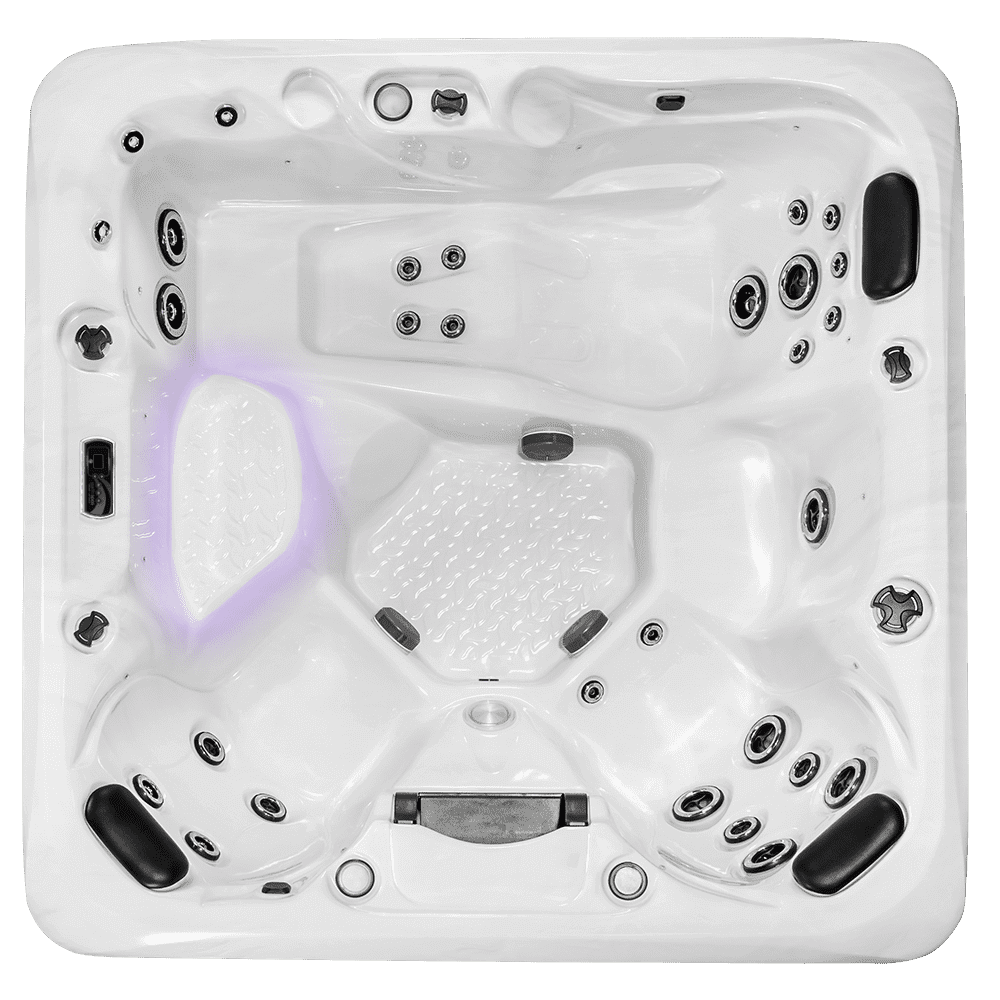 Hybrid Lounger
Allow your aches and pains to simply melt away from head to toe with the feeling of your own personal masseuse in this hybrid lounger for people of different heights.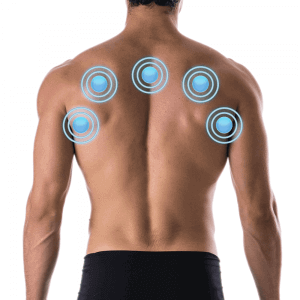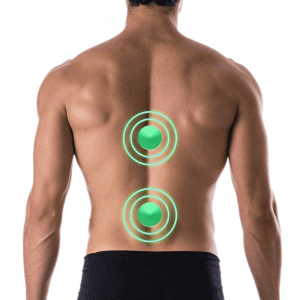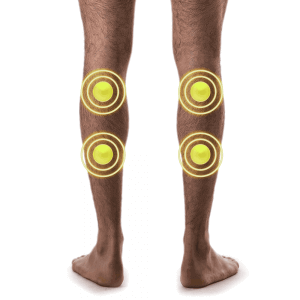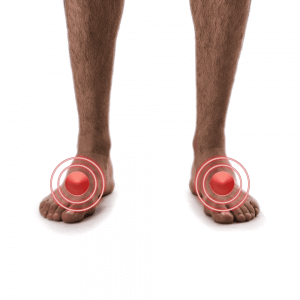 Deep Bucket Seat
The back Jets have been designed to follow the natural curvature of the spine to reach the most desired areas for effective pain relief. Paired with high pressured thigh jets for a deep tissue massage, this seat will leave you feeling tense free.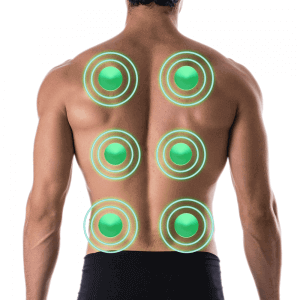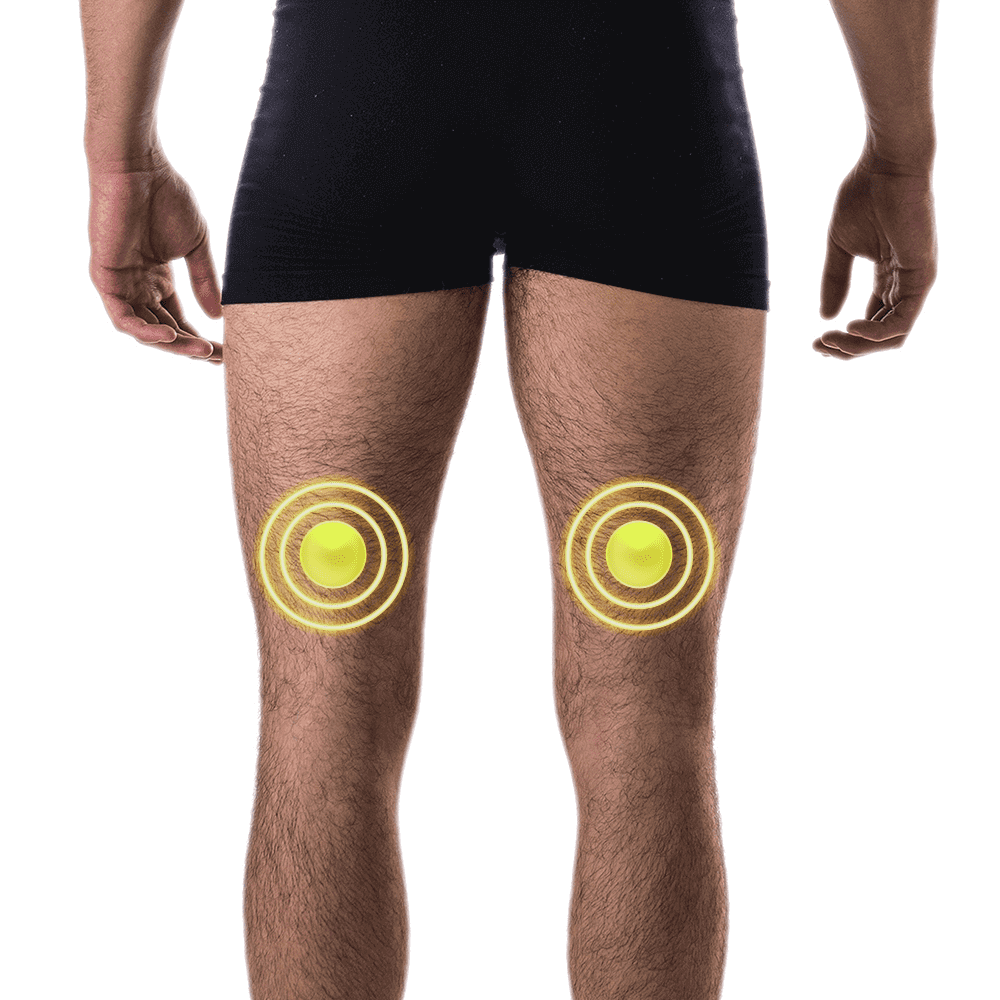 The Second Seat
Relax as the jets create the optimal blood circulation to soothe any aches and pains in the upper and lower back.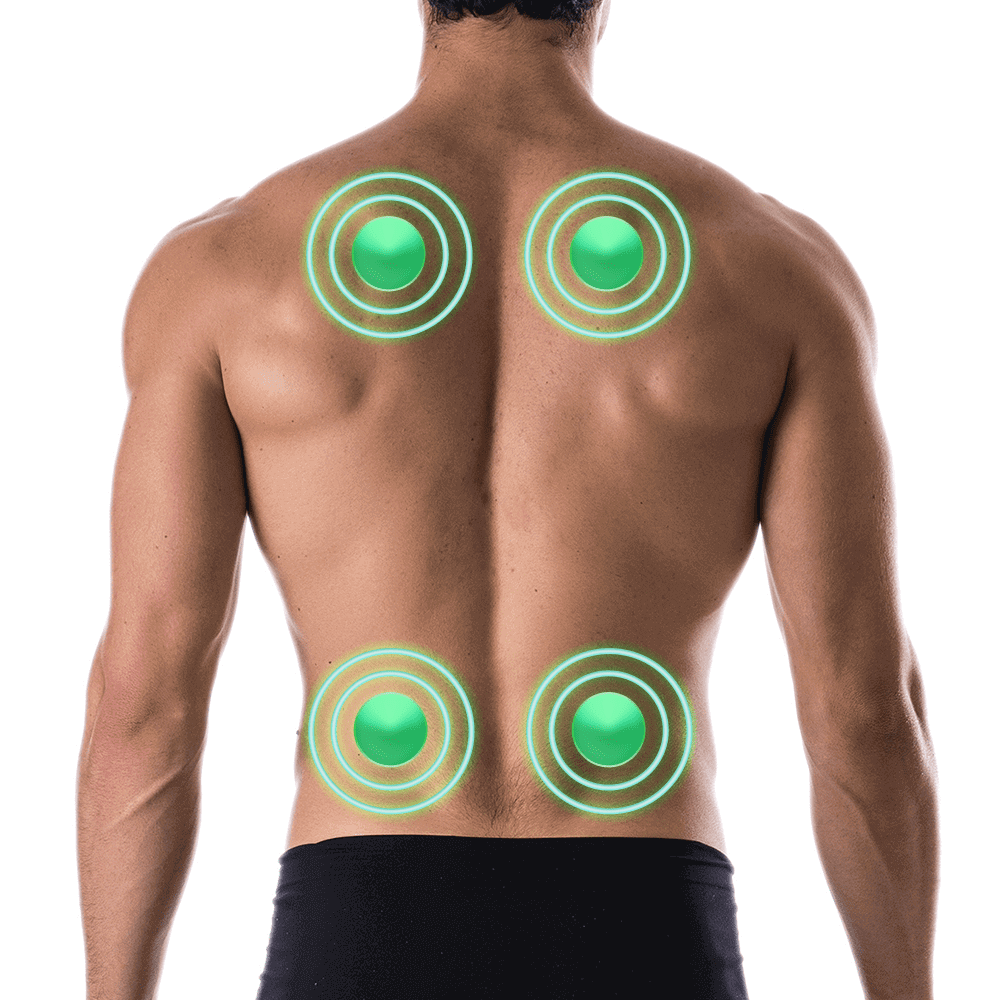 Side Seat
The perfect seat for those suffering with lower back pain. The Jet here can be angled to target the specific area and will help relieve those constant daily niggles!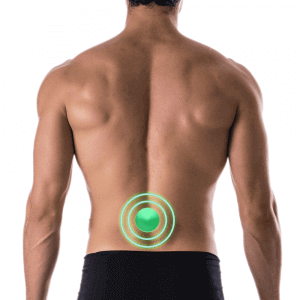 Child Seat / Cooldown Seat
Now you can enjoy the spa with the whole family with this designated seat for little ones! Or, if you start to feel a little hot but are not quite ready to get out you can sit here to cool off.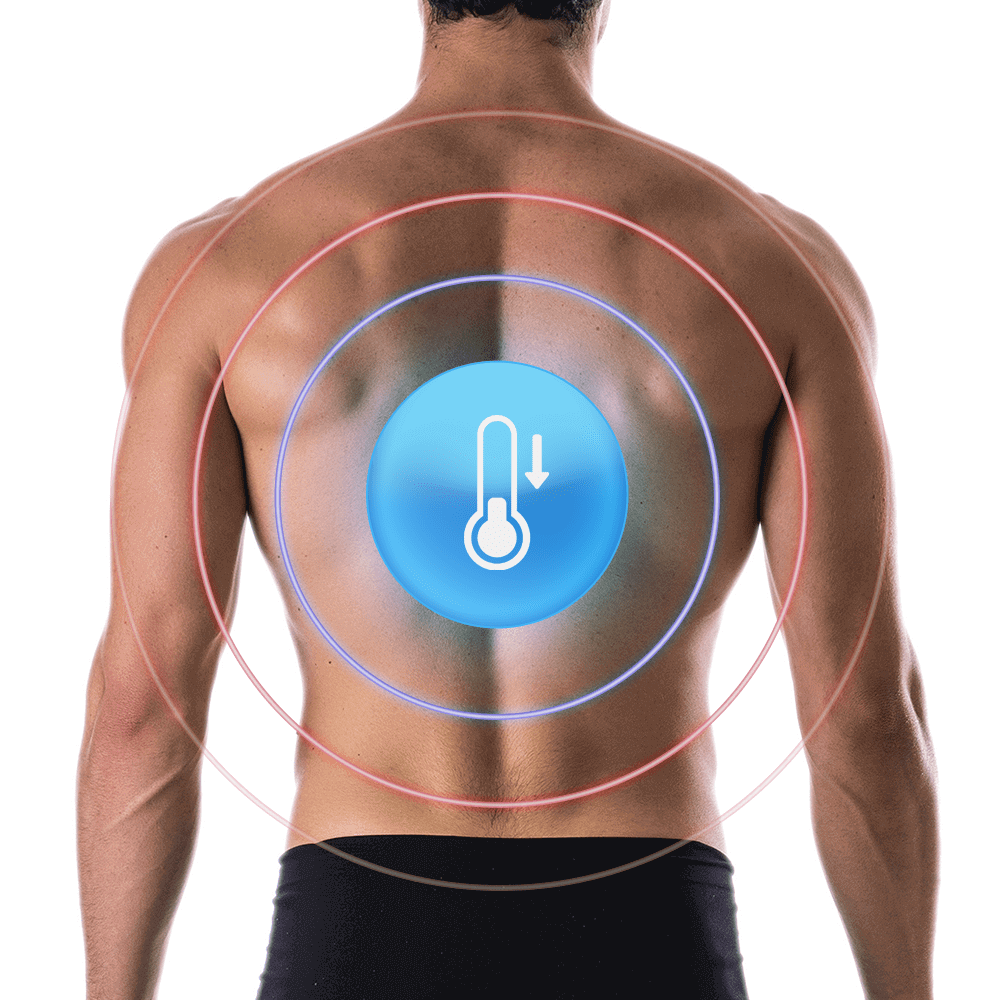 Water Feature

Yes

Music

Bluetooth, 2 surface speakers plus sub-woofer

Lights

LED multi-colour. Perimeter, cup holders plus foot-well

Frame

2.5cm reflective foam heat lock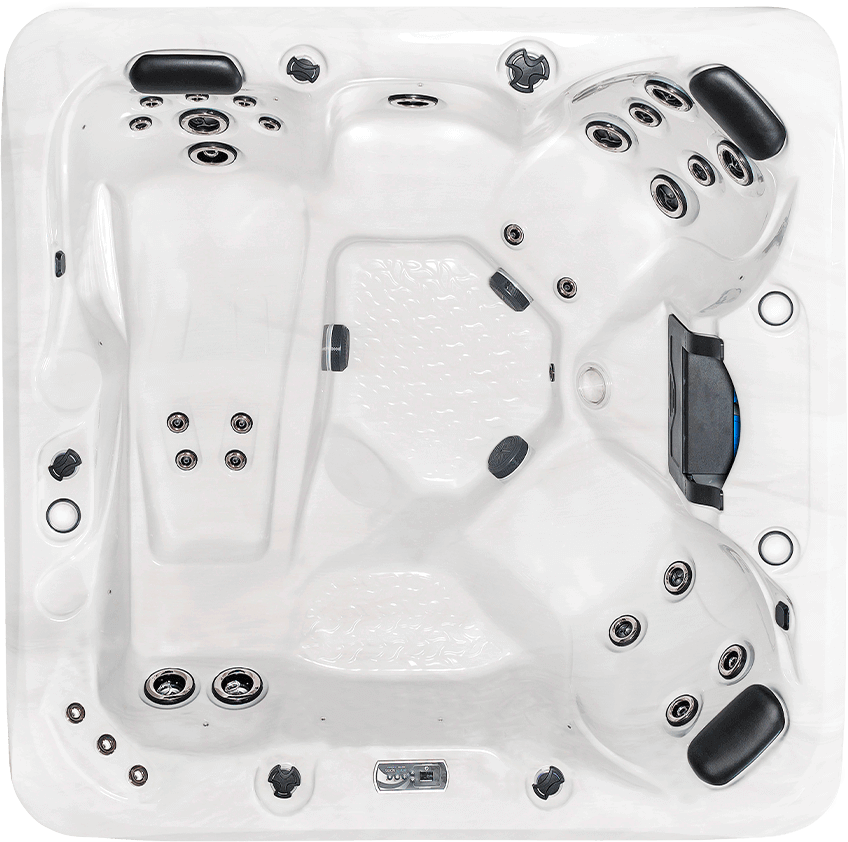 Description

Compact single lounge spa

Capacity

4-5 Seats

Ideal For

Couple plus friends / small family

Dimensions

200 x 200 x 86 cm

Dimensions

79 x 79 x 34 Inch

Seat Config

3 Seats 1 Lounger 1 Step/Child Seat

Number Of Jets

28

Pumps

1 x 635lpm single speed and 1 x 0.53hp circulation pump
Heater

2kW Electric

Min Power Supply

13A or 16A

No Of Filters

2

Water Capacity

987 Litres

Dry Weight

288kg

Wet Weight

1275kg

Acrylic

Aristech - USA

Controls

Gecko - Canada

Design

British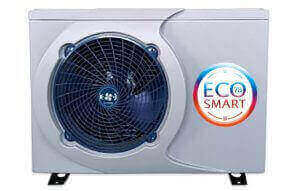 Having an EcoSmart73 system is the newest and most efficient way of running your Spa.
With your Spa being EcoSmart73 ready all you need to do is simply purchase the add-on, have it connected and you're good to go!
The latest heating efficiency pack uses an eco-friendly refrigerant reducing costs up to 73% and the impact on the environment.
Also adding flexibility, it has 6 different modes available to not only heat up but also cool down!

If you are looking for the newest, most energy efficient form of heating and regulating your spa, look no further than the Eco Smart 73 system. All our Earth Spas come Eco Smart 73 ready giving you the option to save up to 73% in running costs and to significantly reduce the impact on our environment. The latest air sourced heat pump uses an eco-friendly refrigerant ensuring the lowest amount of power used in the smartest way. This new solution brings total flexibility and has 6 different modes available to not only heat up but also cool down!
Energy Savings
The latest, groundbreaking air source heat pump uses the most environmentally friendly R32 refrigerant ensuring the lowest amount of power is used in the smartest way. Compared to standard electric elements, this system allows you to save up to 73% in energy costs. Being Eco Smart 73 isn't only about saving you money. This intelligent solution only requires a remarkable input of 0.9kw in order to produce 5kw output minimising any impact to your carbon footprint.
Smart Modes
Eco Smart 73 is an intelligent system that caters for total flexibility of your requirements. With the choice of six different modes: EcoHeat, Smart Heat, Eco Auto, Smart Auto, Cool and Electric you will always be able to relax in perfect temperatures, no matter the weather! These smart modes give you constant peace of mind your spa is working the most intelligent way to not only keep you relaxed but also making sure you optimize on your savings!
Plug & Play
Eco Smart 73 is a fully integrated system and a plug and play solution meaning being more eco-friendly has never been easier. No additional power circuits are required, and everything can be controlled simply from a touch of your control panel.